I am a political scientist whose research examines the relationships between rights, governance and public policy, with a particular focus on the Supreme Court of Canada's impact on public policy and political discourse under the Charter of Rights and Freedoms.
I am an Associate Professor in the Department of Political Science at the University of Waterloo. I also teach at UWaterloo's Master of Public Service program.
I earned my Ph.D and MA in political science at Queen's University, and a BA at the University of Western Ontario. In 2009-10, I was an Associate of the Canada Program at Harvard's Weatherhead Center for International Affairs and in 2010-11 I was a Visiting Researcher at Harvard Law School.
In 2016, I founded the Courts & Politics Research Group, which connects political scientists working on courts and the law in Southern Ontario. It currently has 18 members at 10 different universities, and holds regular events including an annual spring workshop.
I have published in the International Political Science Review, Supreme Court Law Review, Canadian Journal of Political Science, Review of Constitutional Studies, Canadian Public Administration, and the Queen's Law Journal.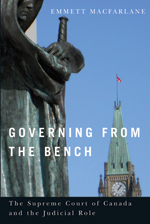 My book, Governing from the Bench: The Supreme Court of Canada and the Judicial Role, was published by UBC Press in 2013.
Available here: