I am a political scientist whose research examines the relationships between rights, governance and public policy, with a particular focus on the Supreme Court of Canada's impact on public policy and institutional relationships under the Charter of Rights and Freedoms, and ongoing projects on constitutional change, free expression, and officers of Parliament.
I am an Associate Professor in the Department of Political Science at the University of Waterloo, where I teach courses including first-year introduction to politics, third-year constitutional law, senior undergraduate and graduate seminars on rights & public policy, and in our Master of Public Service program.
I earned my Ph.D and MA in political science at Queen's University, and a BA at the University of Western Ontario. In 2009-10, I was an Associate of the Canada Program at Harvard's Weatherhead Center for International Affairs and in 2010-11 I was a Visiting Researcher at Harvard Law School.
In 2016, I founded the Courts & Politics Research Group, which connects political scientists working on courts and the law in Southern Ontario. It currently has over 20 members at 10 different universities, and holds regular events including an annual spring workshop.
I am the author of Governing from the Bench: The Supreme Court of Canada and the Judicial Role (UBC Press, 2013) and Constitutional Pariah: Reference re Senate Reform and the Future of Parliament (UBC Press, 2021), and the editor of Constitutional Amendment in Canada (University of Toronto Press, 2016) and Policy Change, Courts, and the Canadian Constitution (University of Toronto Press, 2018).
I have published in the International Political Science Review, Supreme Court Law Review, Canadian Journal of Political Science, Canadian Public Administration, McGill Law Journal, National Journal of Constitutional Law, Review of Constitutional Studies, Ottawa Law Review, International Journal of Canadian Studies, and the Queen's Law Journal.
Disclosure: I am not a member of any political party. Although occasionally paid a nominal rate for op-eds (by the CBC, Maclean's, the Globe and Mail, and the Ottawa Citizen), I am employed only by the University of Waterloo. All of the non-partisan policy advice I have given to the Government of Canada, various parliamentary committees, and parliamentarians of various stripes has been unpaid. I have made donations to to CAMH in Toronto, Animal Justice Canada, the Canadian Red Cross, the Canadian Cancer Society, Planned Parenthood, the Waterloo Region Food Bank, and the Kitchener-Waterloo Humane Society. I have received research funding support from the Social Sciences and Humanities Research Council (SSHRC) and the University of Waterloo.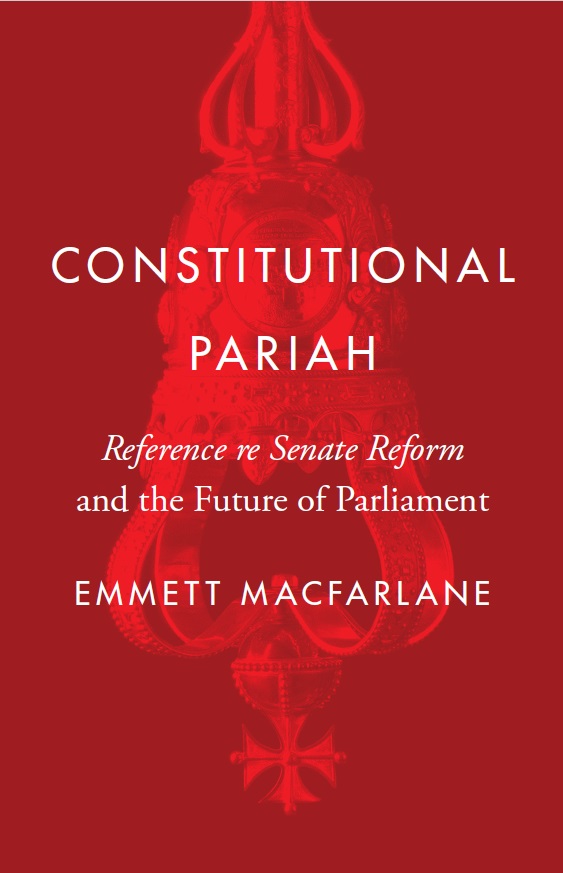 My new book, Constitutional Pariah: Reference re Senate Reform and the Future of Parliament, is coming this April, via UBC Press.
Available for pre-order here: